1 février 2011
2
01
/

02
/

février
/

2011
08:00
A la demande d'une visiteuse anglophone, voici des patrons de capes dans la langue de Sheakspeare !
- Long cape with hood (cape longue avec capuche) :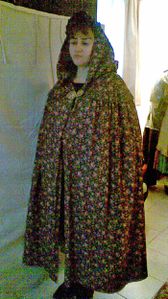 - Shoulders yoke (empiècements d'épaules) :
One for the extern part and one for (the same) the lining.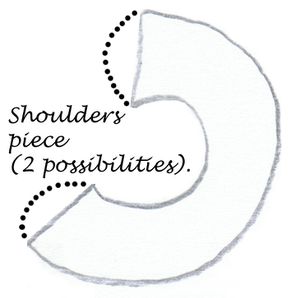 The form can be roundness or right on the front of the neck.

- Cape rectangles size :
About 120 cm x 200 cm (it depend of your size and your height). One for the extern part and one for (the same) the lining.
You can put a piece of wool between the extern tissus and the lining (doublure) for a very warm cape.
- Hood (capuche) :
A rectangle piece about 40 cm x 100 cm.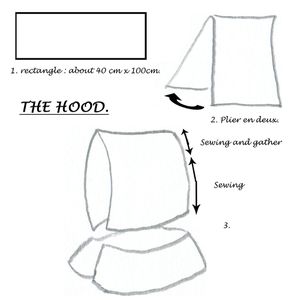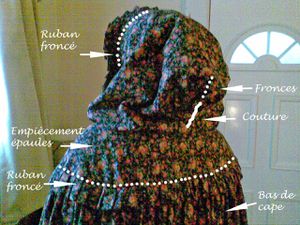 - Gathered ribbon decoration (fronce de décoration ) :
A long, long, long ribbon because 3 x the length of his support ! (For example, I used 20 metrers of ribbon for de "ramoneur" cape !!!).
You take a long ribbon about 10 cm large and fold it all the longer. You sew it and gather.

You can gathered it or make folds flat (like photo). It's more beautifull but more difficult to do. The hardest is the "plis polonaise" : a large ribbon with a lot little folds.

To close you cape, you can sew a ribbon or a iron buckle.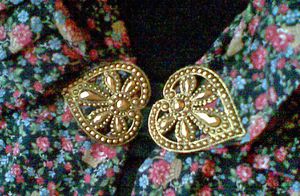 - Short cape (cape ramoneur) :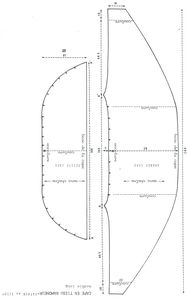 Picture from the book : "Lou Vèsti prouvençau" by Simone and Estelle Nougier.
You can take the picture and enlarge it : I hope the quality will be enough to read the text...
The smallest part could be put on the head like a hood.
-The gatherer ribbon décoration :
Same than the long cape : 3 x the length of the support.
So, there's no rules to make your cape : ou can choose your size, if you want a large ribbon or a small one... or not ribbon at all. You can choose a largest hood or a small one. All the old "ramoneur" capes are very differents too : longer than the back or small under the wraist.

Bon, désolée si ma traduction n'est pas terrible : j'espère que les petits croquis vous aideront mieux.
Un grand merci à vous, cher(e)s visiteurs(ses), de votre indulgence !!!